Hello Friends, Today we are going to tell you Everything About the new 2025 BMW 5 Series. The new BMW 5-Series is a mid-size luxury sedan that is known for its eye-catching and sporty exterior design, luxurious and spacious interior, modern technology and safety features, and excellent performance. It also has more specifications that attract sedan lovers.
Apart from this, it offers a wide range of standard interior and exterior features to improve its ride quality, performance, and comfort such as an automatic emergency braking system, Automatic dual-or three-zone climate control, a large curved touchscreen display with BMW's latest infotainment system to connect your smartphone to the car without wire.
If we talk about its power and performance, it gives enough power to spin its all-wheel and ride smoothly on the road or highway without feeling crapy. For example, it offers an all-new 255 HP 2.0-liter four-cylinder engine with a 48-V Mild Hybrid System and this combination is paired with an eight-speed automatic transmission to give the best performance. BMW has claimed that it can accelerate 0-60 MPH in just 5.8 seconds.
So if you are looking for a luxury sedan with a host of standard luxurious features, specs, a powerful powertrain that gives excellent performance, is fuel-efficient, and an attractive exterior design with more features, then it might be best for you. To get comprehensive information regarding the new BMW 5 Series 2025 you must read this article until the end.
Redesign and What's New for 2025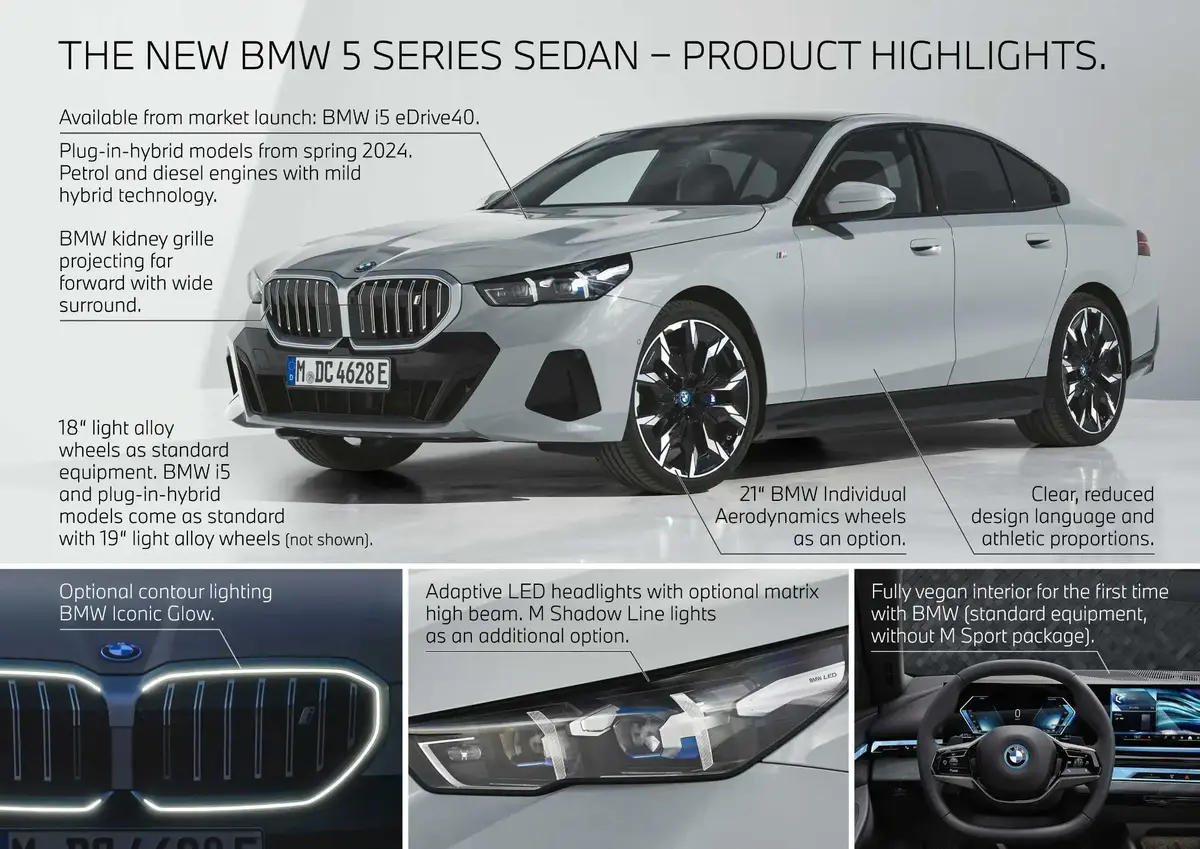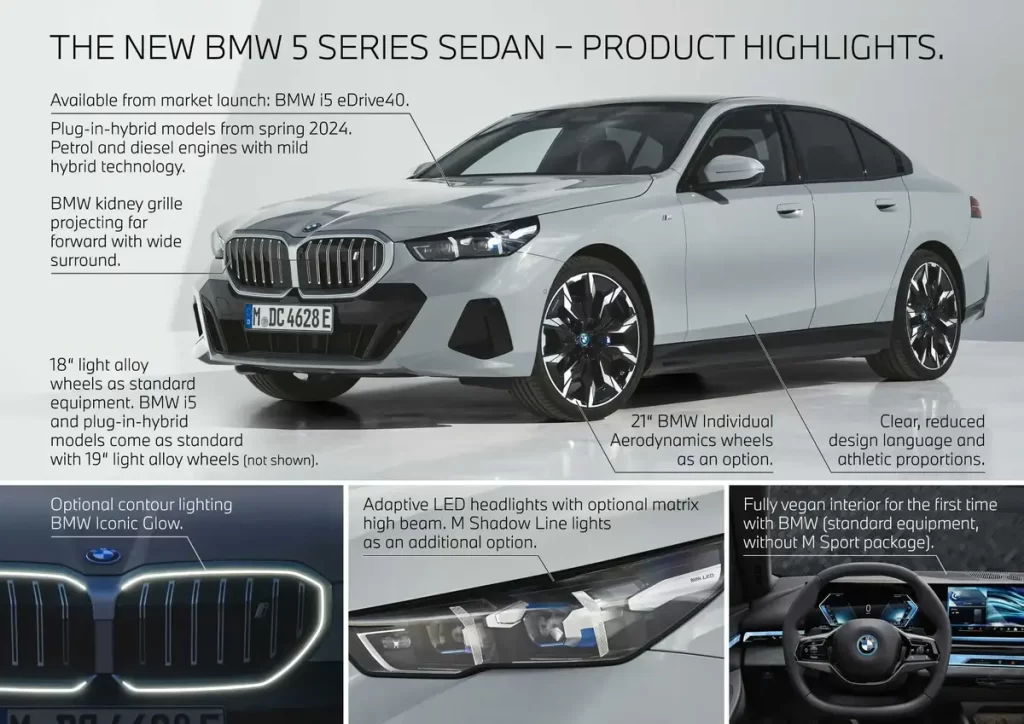 Look, Last year BMW completely redesigned it for the 2024 Model year as the new eighth generation with a completely new exterior, interior, and powertrain. And also BMW has launched its all-new BMW i5 electric sedan which is a fully electric sedan of 5 Series about that we will know in a separate article.
So The 2025 BMW 5 Series Redesign is not possible for the 2025 Model year. We hope BMW will carry forward it for the 2025 Model year without making any changes because the Company completely redesigned it last year.
For your knowledge let me tell you a short overview of its generation history. The First generation of the BMW 5-series was launched in 1972 and was continued until the 1981 model year, then BMW completely redesigned it for the 1982 model year as the second generation. And like it BMW 5 Series passed through several generations till now. Currently, it is available in the market as the eighth generation that is launched for the 2024 Model year as the first model year of the Eights generation.
2025 BMW 5 Series Release Date
As we know BMW has recently launched it for the 2024 Model year with a completely new design, and specs as the eighth generation. So there is no expectation to make any changes for 2025 that's why it is likely that it will be released soon for the 2025 Model year in the summer of 2024. However, Officially The Company hasn't released any kind of information regarding the new BMW 5 Series 2025 Release date. But don't worry, We will update you soon when The Company releases it.
2025 BMW 5 Series Price & Trims
Unfortunately, The Company has not said anything regarding the next BMW 5 Series 2025 Price and trism. But we expect that the next BMW 5 Series will have the same trims model as last year and also its price could be the same or nearby. For your information allow me to tell you about its previous model year trims and their prices.
Last year BMW 5 Series is offered in two trims- 530i, and 530i xDrive that's prices start at $57,900 to $60,200. So we hope the price of the next 2025 Five Series Sedan could start at around $58,000 to 61,000. Below we have given its trims and their estimated prices below in the table. But we promise we will return soon with its exact pricing and trims when The Company discloses.
| | |
| --- | --- |
| Trims Name | Estimated Pricing |
| 530i Sedan | $58,000 |
| 530i xDrive Sedan | $61,000 |
New BMW 5-Series 2025 Price
2025 BMW 5 Series Specs
| | |
| --- | --- |
| Trim Name | 530i Sedan |
| Model Year | 2025 |
| Body Type | Luxury Sedan |
| Engine Type | Gasoline |
| Engine Name | 2.0L 4C |
| Max-Power Output | 255 HP |
| Max-Torque Output | 295 lb-ft. |
| Transmission | 8-Speed Automatic Transmission |
| Drivetrain | FWD or AWD |
| 0-60 MPH Time | 5.8 Seconds |
| Top-Speed | 130 MPH |
| No. of Doors | Four-Doors |
| No. of Rows | Two-Rows |
| Seating Capacity | Five-Passengers |
| Fuel tank Capacity | N/A |
| Full Tank Fuel Range | N/A |
| Fuel Economy | 27/35 (City/ HWY) |
| Official Website | www.bmwusa.com |
Interior Design and Comfort
The Interior Design of the new generation BMW has been completely changed from the previous generation. Now it comes with a more spacious and luxurious interior, BMW has also increased its dimensions to improve its interior passenger space and cargo space. So this new BMW 5 Series will be more spacious and luxurious than ever before. And we hope all the designs and features will be the same as the previous model year.
You can view its interior design and features above in the images. Now BMW offers a wide range of interior features to improve the driver and passengers experience such as a large curved touchscreen display and driver information display, BMW's Latest infotainment system with iDrive 8.5 operating system to connect your smartphone to the vehicles wirelessly. So You will get modern and advanced technology features in the new 2025 5-series sedan.
Apart from these features, BMW offers other luxurious features such as dual-or-tri-zone automatic climate control to control the interior temperature, optional heated and ventilated front seats, Dual Panoramic power sunroof, Premium Armrest with Cupholders, and also you can get a premium sound system in the new 5-Series sedan.
Let's talk about its rear seat space and seating capacity. The rear seats of the new BMW 5 Series have now more legroom and headroom compared to the previous model to improve the seating experience so now anyone can easily access inside it without facing any kind of issues. And along with this now you will get large cargo space to carry your suitcases and bags.
Read Next- Know Everything About the upcoming 2025 BMW 3 Series Sedan.
Infotainment and Connectivity Features
Every BMW 5 Series comes with BMW's latest operating System BMW iDrive 8.5 with 5G Connectivity and eSim Features. Apart from this, this new BMW 5 Series comes with a large 14.9-inch touchscreen display and a 12.3-inch driver information display and both display is integrated into each other. Also, BMW has reduced buttons and controls from its front dashboard. Here we have given all the features that are likely to come with it for 2025:-
14.9-inches touchscreen display
12.3 inches driver information display
Optional BMW head-up display
Heated Steering wheel with Multifunctional buttons
Harman Kardon Premium Sound System
Wireless Apple CarPlay and Android Auto
Moonroof
5G Connectivity Features
Bluetooth Connectivity
Wi-Fi Hotspot
Video Game System
Wireless Smartphone Charging
Ambient interior lighting
Safety and Driver Assistance Technology Features
BMW offers a host of standard advanced driver assistance technology and safety features with its all 5-series sedan such as standard Blind-Spot Monitoring System, Lane Departure Warning, Automatic Emergency braking system with Pedestrian Detection, and many more. Below we have given all the expected safety features that could be included in the 2025 5-Series Sedan:-
Automatic Emergency Braking system with Pedestrian detection
Blind-Spot Detection
Lane Departure Warning
Lane Keeping Assist
Automatic High Beams
Backup Camera
Available Adaptive Cruise Control
Tire Pressure Monitoring System
Rear Child Door Locks
Airbags And more.
Read Next- The 2025 Toyota Tacoma Release Date, Price, and Trims.
Exterior Dimensions
| | |
| --- | --- |
| Length | N/A |
| Width | N/A |
| Height | N/A |
| Wheelbase | N/A |
| Ground-Clearance | N/A |
| Curb-Weight | N/A |
Interior Dimensions
| | |
| --- | --- |
| Head-Room (Front/ Raer) | N/A |
| Leg-Room (Front/ Raer) | N/A |
| Shoulder-Room (Front/ Raer) | N/A |
| Hip-Room (Front/ Raer) | N/A |
| Passenger-Volume | N/A |
| Cargo-Volume | N/A |
Conclusion
Hello Friend, Today in this article we have learned Everything About the new BMW 5 Series Sedan 2025 which you need to know such as its Redesign info, release date, price and trims, specs, interior design and comfort, technology features, safety and driver assistance features, and other important information.
We hope this article will be helpful for you, and also able to answer your all questions about the BMW 5 Series 2025. If Yes, You must share this article with your friends and family. Thank you For reading this article till the end.