The New BMW X6 is on the way for the 2025 Model year. As we know the 2025 BMW X6 is a mid-size luxury SUV that is known for its powerful powertrain, excellent performance, best fuel economy, luxurious and spacious interior, impressive exterior style, and most importantly top-rated safety features.
In terms of powertrain and performance, it produces too much power to give the best performance on the road and highways, For example- it produces 523 Horsepower to spin its all-wheel. BMW has also claimed that it will give the best performance and can accelerate 0-60 MPH in just 4.2 seconds, while its base model is also powerful and produces 375 horsepower.
When we went inside it, we found a more luxurious interior with more modern technology and entertainment features such as a large curved touchscreen with the latest infotainment system and connectivity features to connect your smartphone to this sports SUV such as it will have a wireless Apple CarPlay and Android Auto, Bluetooth Connectivity, and many more features.
So if you are looking for such a luxurious SUV with more modern technology and safety features and a powerful powertrain that gives Quick acceleration then it might be best for you. If you are planning to purchase it, before ordering it you need to know Everything About the new BMW X6 2025. To get the all-important about it you should read this article until the end because in this article I will tell you Everything About the new 2025 X6.
Redesign and What's New For 2025
See, Last year BMW significantly refreshed its exterior, interior, and powertrain, Now it comes with a refreshed front new grille and bumper, new headlights, new taillights, and updated wheels, and also BMW has upgraded its base model powertrain with a 48V hybrid system now that produce more power than ever before. That's why we don't think of the 2025 BMW X6 Redesign. We think BMW will carry over it without making any significant changes for 2025. However, BMW hasn't released any kind of information about its redesign, so we will update you when BMW releases any information about the redesign of the BMW X6 2025.
For your information allow us to tell you about its previous generation. The BMW X6 is passed from several generations, its first generation was launched in 2008 and continued until the 2014 Model year. And after that BMW completely redesigned it for the 2015 Model year as the second generation that continued until the 2019 Model year.
And now Currently available 2024 BMW X6 is a part of the third generation that was launched first time in the 2020 Model year and after that, it has carried over to the 2021, 2022, and 2023 Model year without any significant changes. Last year BMW completely refreshed it for the 2024 Model year that is available now.
2025 BMW X6 Release Date
As we know there is no expectation to see any significant changes for 2025 in the BMW X6. That's why we think that it will be released soon in 2025. However, BMW hasn't released yet any kind of information regarding the next BMW X6 2025 Release Date. But according to Automotive sources and our years of experience, we expect that it could be released in the Summer of 2024 For the 2025 Model year. However, Don't worry, we will update you when the official company releases it.
If you don't have time to wait a long time, then you can order its currently available 2024 BMW X6 Model year because there is no expectation to change anything for 2025, and also it is likely that its price could increase next model. That's why you can order its existing model.
2025 BMW X6 Price and Trims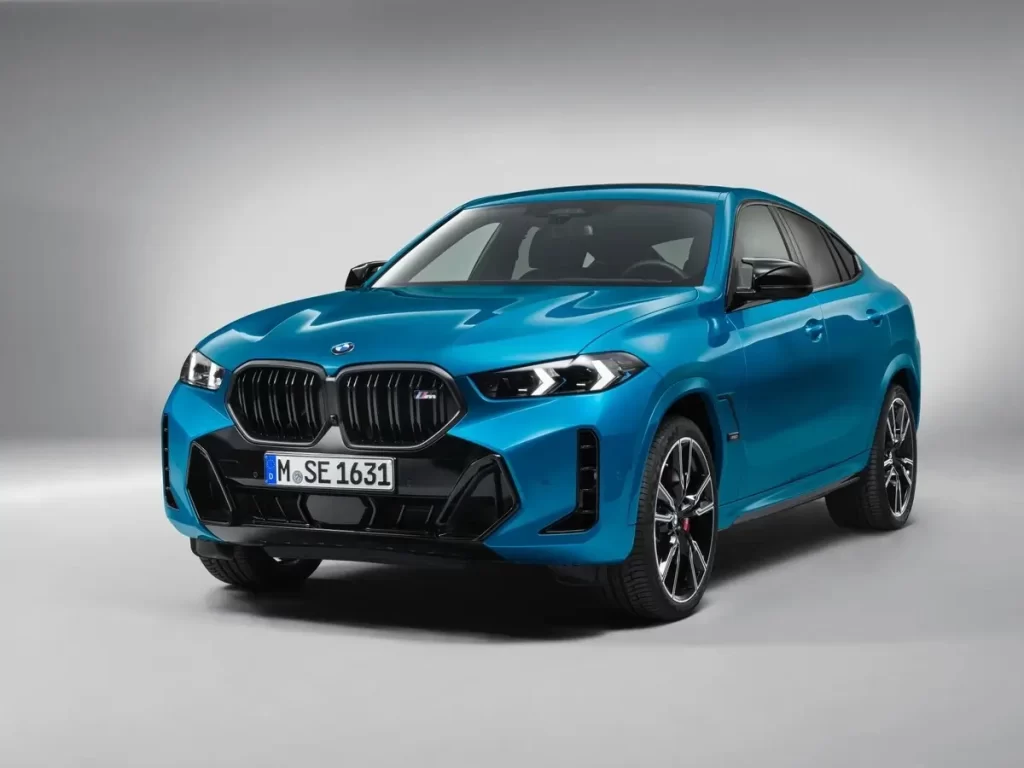 Last Year's BMW X6 is offered in two trims- X6 xDrive40i, and X6 M60i whose prices start at $73,900 and go up to $93,900. And we know there is no expectation to make any changes for 2025. That's why we hope the next Model Year BMW X6 will have the same trims as last year but their price could increase a little more. It is likely that the next BMW X6 2025 Price could start at around $74,500 which could go up to $94,000. It is important to note that this the estimated price so it will be subject to changes. But we promise we will return soon with its exact pricing and trims when BMW discloses.
| | |
| --- | --- |
| Trims Name | Estimated Pricing |
| X6 xDrive40i | $74,500 |
| X6 M60i | $94,000 |
New BMW X6 Price 2025
2025 BMW X6 Specs
| | |
| --- | --- |
| Trim Name | X6 M60i |
| Model Year | 2025 |
| Body Style | Luxury SUV |
| Engine Type | Gasoline |
| Engine Name | 4.4L V8 Engine |
| Max-Power | 523 HP |
| Max-Torque | 553 lb-ft. |
| Transmission | 8-Speed Automatic |
| Drivetrain | AWD |
| 0-60 MPH Time | 4.2 Seconds |
| Top-Speed | 130 MPH |
| No. of Doors | Four-Doors |
| No. of Rows | Two-Rows |
| Seating Capacity | Five-Passengers |
| Fuel Tank Capacity | N/A |
| Full Tank Fuel Mileage | N/A |
| Fuel Economy | 17/ 22/ 19 MPG (City/ HWY/ Comb.) |
| Official website | www.bmwusa.com |
Interior Design and Comfort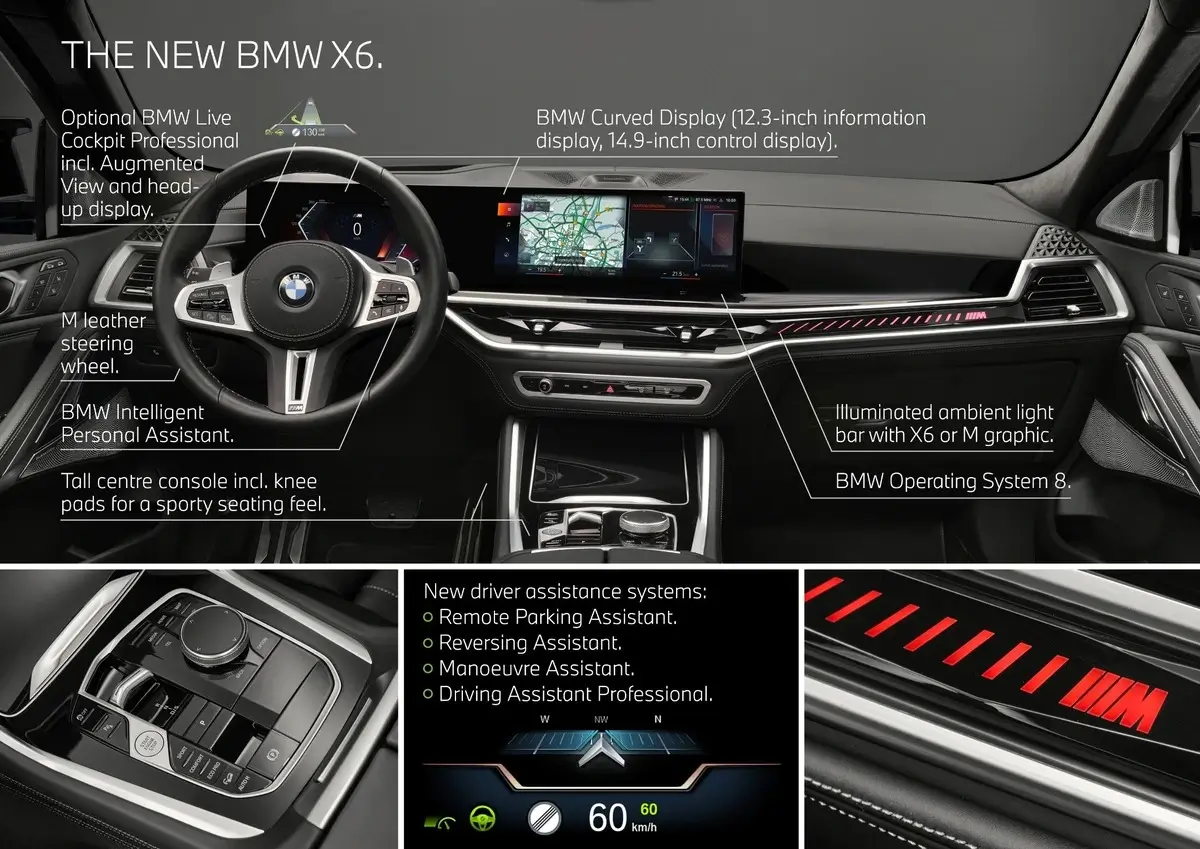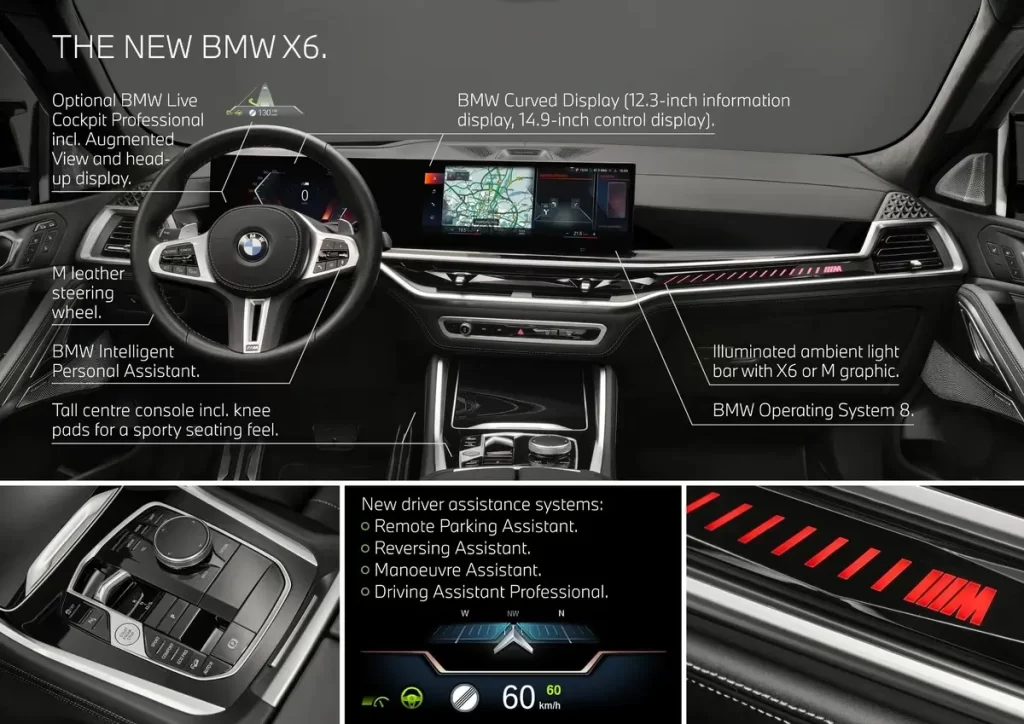 As we know last year BMW X6 got a major refresh in its interior design and features. That is why we don't think to get any changes in its interior for the 2025 model. We hope all the designs and features will be carry forward from the last year. Here we have given its interior information on behalf of last year's BMW X6.
The BMW X6 has a more luxurious, spacious, and comfortable interior that is also full of modern features such as a large 14.9-inch multimedia touchscreen display, and a 12.3-inch information display and both are integrated into each other. Also, BMW has equipped its latest BMW iDrive 8 infotainment system that allows you to use various features. For example -this BMW X6 has wireless Apple CarPlay and Android Auto compatibility, a wireless Smartphone charging pad, a premium sound system, and multi-zone automatic climate control to control the interior temperature. So in terms of features, it has plenty of more features.
Let's go inside its rear seats, Its rear seats have also enough legroom and headroom space to sit comfortably without facing any kind of problems, but its interior legroom and headroom are a little less than the BMW X5, but even it is comfortable. Its second row has a seating Capacity for up to three passengers but two can sit comfortably.
If we talk about its interior materials, then it is important to note that its interior is built using High-quality materials such as leather upholstery, soft-touch materials, premium cloth, and other high-quality materials. For your suitcases and bags, it has cargo space that is good for carrying up to nine suitcases behind its rear seats. So overall the interior of the BMW X6 is good. We hope you like its interior.
Read Next- You Need To Know EveryThing About the 2025 BMW 5 Series.
Infotainment and Connectivity Features
BMW offers plenty of premium and modern technology features with its vehicles. So we hope it will also offer more and more luxurious features with its new BMW X6 2025. We expect as previous year it will have a large curved touchscreen display with wireless Apple CarPlay and Android and many more. Here we have given all its interior features that are likely to come with the new BMW X6:-
A large 14.9 Inches touchscreen display
A 12.3 inches driver information display
Wireless Apple CarPlay and Android Auto
Wireless Smartphone charger
Bluetooth connectivity
Wi-Fi hotspot capability
Customizable ambient interior lighting
Multi-zone automatic climate control
USB ports
Armrests
16-way power-adjustable front seat
Remote engine start
Personal eSim 5G
Harman Kardon premium sound system
Headup display
Panoramic Moonroof
Front heated and ventilated seat
Safety and Driver Assistance Technology Features
As like its infotainment and connectivity features BMW offers a host of standard safety and driver assistant technology features. For example – it will have a standard Anti-lock braking system, Rear view camera, front and rear park assist, Automatic climate control, and many more. Below I have given all its safety features that are likely to come with the 2025 X6:-
Dynamic cruise control
Tire pressure monitoring system
Anti-lock braking system
Multiple airbags
Seat belts
Front and rear park distance control
Rearview camera
Safety belt warning
Automatic locking retractors
Adaptive brake lights
Automatic High beams
Central locking system
Forward collision warning
Active blind spot detection
Lane departure warning
Speed limit info
Anti-theft Alarm system
2025 BMW X6 Colors
The last year BMW X6 was offered with thirteen exterior colors and it is likely that the all exterior colors will be carry forward for 2025. That's why here I have given all its exterior colors below in the list:-
Tanzanite Blue metallic
The Isle of Man green metallic
Brooklyn Grey Metallic
Skyscraper Grey Metallic
Aventurine Red Metallic
Frozen Pure Grey Metallic
Ametrine Metallic
Alpine White
Manhattan Green Metallic
Dravit Grey Metallic
Mineral White Metallic
Black Sapphire Metallic
Carbon Black Metallic
Read Next- The 2026 BMW i8 M Release date, Specs, Features, and Price.
Exterior Dimensions
| | |
| --- | --- |
| Length | N/A |
| Width | N/A |
| Height | N/A |
| Wheelbase | N/A |
| Ground-Clearance | N/A |
| Curb-Weight | N/A |
Interior Dimensions
| | |
| --- | --- |
| Length | N/A |
| Width | N/A |
| Height | N/A |
| Wheelbase | N/A |
| Ground-Clearance | N/A |
| Curb-Weight | N/A |
Conclusion
Hello Friends, Today we have learned Everything About the new BMW X6 2025. We have learned about its redesign info, release date, price and trims, specs, interior design and Comfort, technology features, safety and driver assistance features, colors, and other important information that you need to know. We hope this article will be helpful for you. If yes, and you have liked this article then please do share it with your friends and family. Thank You.