The 2025 Hyundai Santa Fe is one of the most popular and successful mid-size SUVs of Hyundai Motors, Which has sold more than 100k units every year. It has a more impressive and Bold exterior design to attract people and in reality, it is a more luxurious SUV.
It comes with more modern technology and safety features to protect its passengers. For example, it has standard driver assistance technology features. Like- standard automated braking systems with pedestrian detection, Anti-Lock Braking Systems, Airbags systems, and much more standard safety features will have.
Today we are going to tell you Everything about the new Hyundai Santa Fe 2025 SUV. We will know Hyundai Santa Fe Redesign, Release Date, Price, Specs, Features, and other important information. So If You want to know Everything about it, You must read this article till the end.
Redesign
The 2025 Hyundai Santa Fe Redesign is not possible Because Last year Hyundai completely redesigned it in 2023 for the 2024 Model year as the fifth generation of Santa Fe. So we don't expect that Company will make any changes for 2025. The Company will carry over it from the 2024 To 2025 Model year.
Release Date
Hyundai hasn't said anything about the next Hyundai Santa Fe 2025 nor said when it will be released or available. But according to our expectations, We can guess it could be available in the summer of 2024 for the 2025 Model Year.
But if you want to buy the Hyundai Santa Fe soon, Then you can order its 2024 Model year Santa Fe, Which will be available soon in the summer of 2023 with a completely new Design, and specs. The company has also confirmed it. However, We will update this article soon when it is available to order for 2025.
Read Next- Know When will the 2025 Hyundai Tucson be Available.
Price and Trims
Hyundai hasn't disclosed the 2025 Hyundai Santa Fe Price yet. But recently Hyundai is going to launch its all-new 2024 Hyundai Santa Fe, That price is likely to start at around $30,000. So we can expect the next 2025 Santa Fe price could start at the same price as last year. So the 2025 Santa Fe Price is likely to start at $30,000 for its base trims plus you will have to pay extra for destination and handling charges. Here we have given its estimated trims and their pricing below in the table. However, We will update this article when Hyundai will disclose its exact pricing for 2025.
| | |
| --- | --- |
| Trims Name | Estimated Pricing |
| SE | $33,500 |
| SEL | $35,500 |
| XRT | $38,500 |
| Limited | $43,500 |
| Calligraphy | $47,500 |
Read Next- Toyota has launched its new 2024 Toyota Camry- View its price.
Interior Design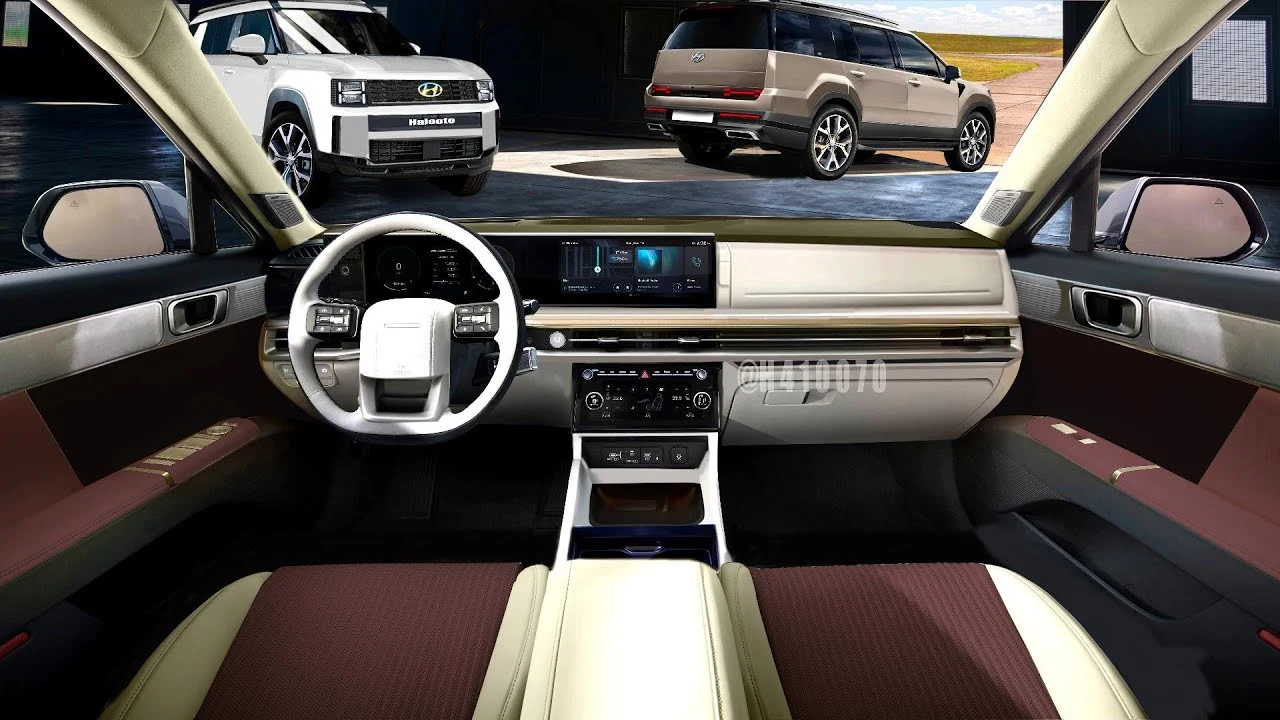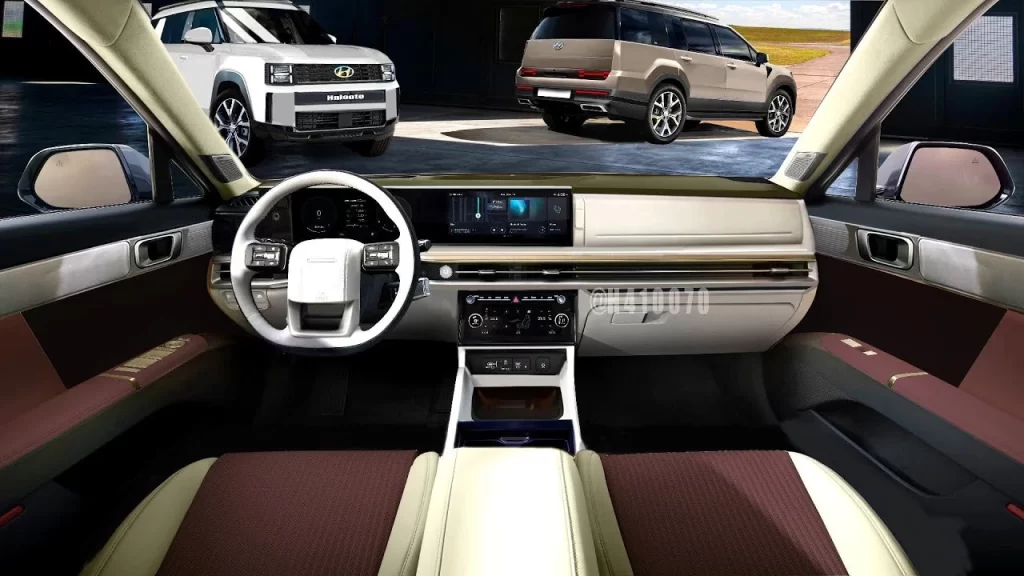 As we know, Hyundai is giving a completely new design to its Santa Fe 2024. Its interior and exterior will get a new design that will be completely different from the previous generation. But till now Hyundai has not released any information about its interior design.
But some of its interior photos have been leaked, looking at the photos, it seems that the new Hyundai Santa Fe will have a completely new modern interior design. It will have a large curved touchscreen display that will integrate both the driver digital gauge cluster display and the touchscreen display.
Also, its interiors are expected to be made using high-quality interior materials. Its interior will be much more luxurious than before. And it's also likely to get more cargo space with more legroom and headroom. However, more information about its interior is not available yet. That's why we'll update this article as soon as Hyundai releases details about its interiors.
Read Next- The Company has launched its new 2024 Lexus ES view its price and specs.
2025 Hyundai Santa Colors
We listed all the color options of the Hyundai Santa, they provide different color options for the exterior and interior, check all the points below for the Hyundai Santa 2025 Colors
Exterior Colors
Twilight Black
Portofino Gray
Shimmering Silver
Quartz White
Hampton Gray
Lagoon Blue
Calypso Red
Stormy Sea
Interior Colors
2025 Hyundai Santa Fe Review
Conclusion
We have learned about the next Hyundai Santa Fe Redesign, Release date, Price, Interior Design, and other important information. We hope you love this article and will share it with your friends. We will come back soon with its updated and other important information.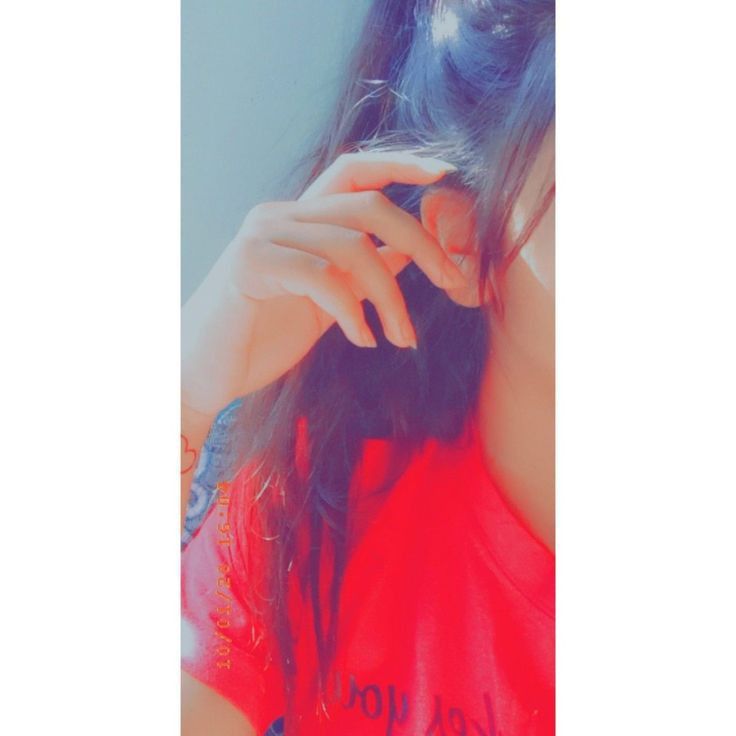 She is a professional Writer and has more than three years of experience in the Automotive industry. She has completed her graduate in English Honors and she is currently studying law.