Hello Friends, Today we are going to Know Everything about the new 2025 Hyundai Tucson. As we know, Hyundai Tucson is one of the most Popular Compact SUVs in this segment. If we talk about its ranking report in the Compact SUV Segment. It ranks in the eighth position according to the Caranddriver Ranking Reports 2023.
Today in this article, We will know about the new Hyundai Tucson 2024 Redesign, Release Date, Price, Specs, Features, Pros & Cons, Specifications, Powertrains details, dimensions, and other important information that you should know. So if you want to know everything about it, You must read this article till the end.
One of the most important things is its bold exterior design that impresses anyone. It also has a more spacious and luxurious interior with more modern tech and safety features. First of all, If we know about its tech features, it comes with a larger touchscreen display that allows us to use its infotainment system.
Apart from this, Hyundai offers a lot of standard safety features to reduce road accidents and help to drive the right way on the highway. So in terms of safety features, it has standard and advanced safety features. For example, it has a Standard Automatic Braking system with Pedestrian detection, standard Lane departure warning with lane keeping Assist.
Redesign And What's New For 2025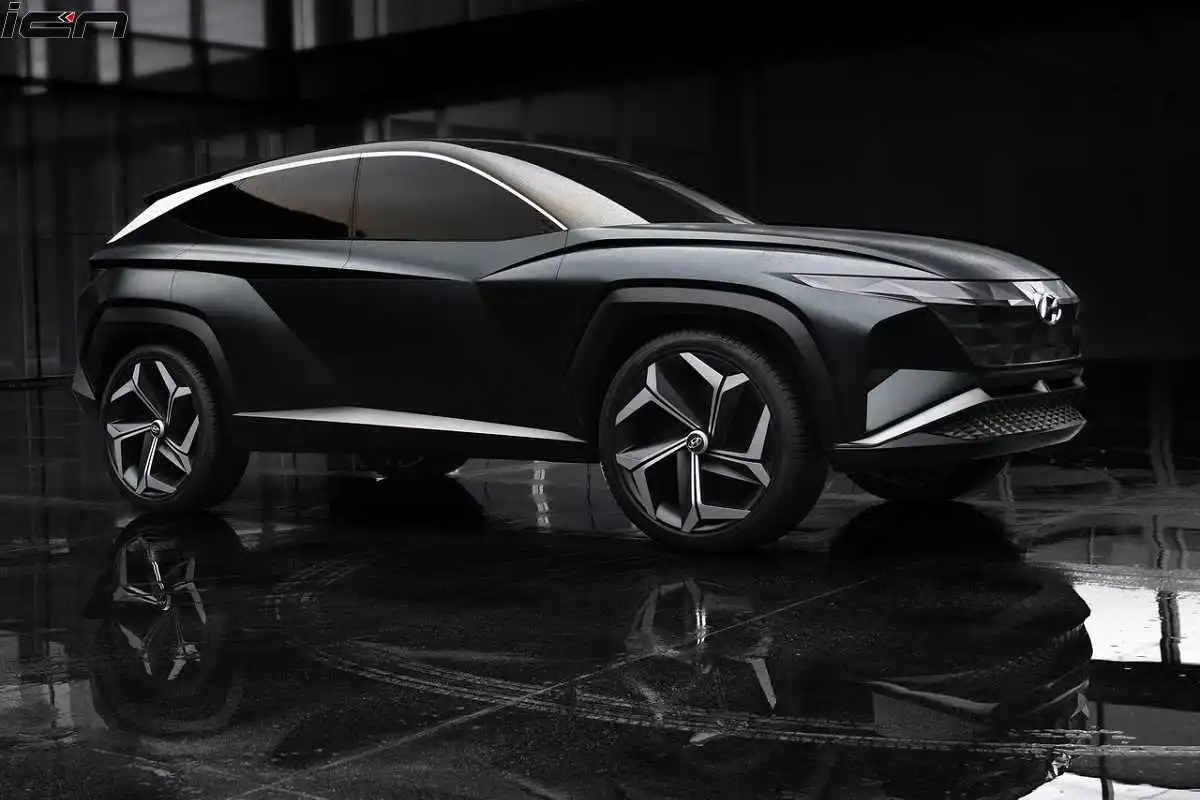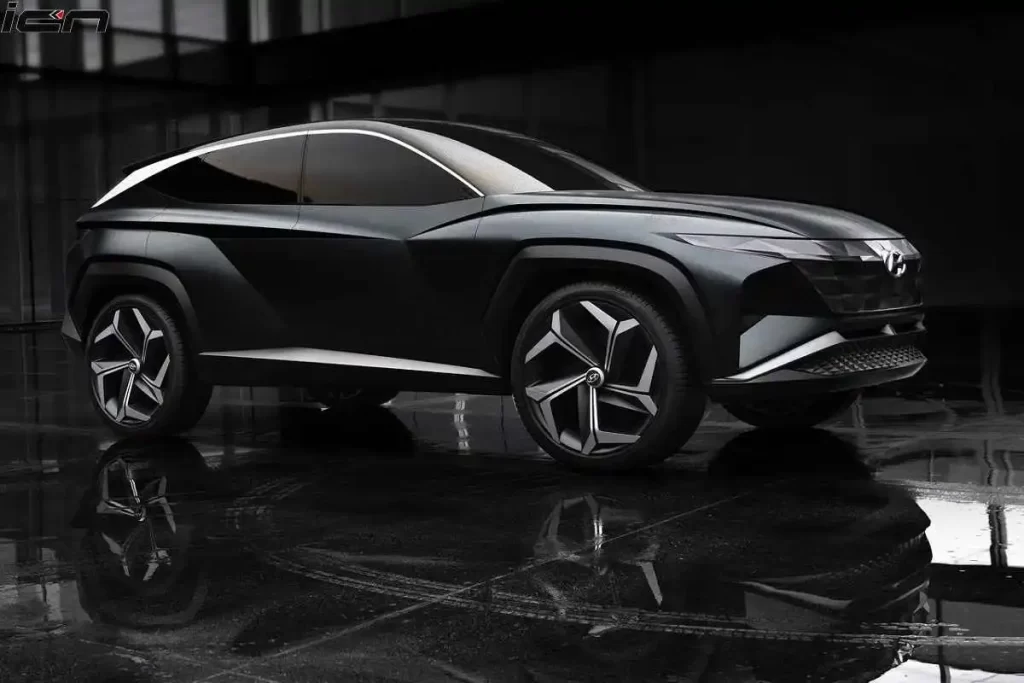 This is a part of the Fourth generation Hyundai Tucson which was introduced in September 2020 for the 2022 Model. Hyundai has carried it over after that with minor changes for the next two 2023 and 2024 models.
But now Hyundai is going to Facelift its exterior and interior design for 2025. Many Reports suggest the new Hyundai Tucson 2025 will have a large new Grille with new Front and rear lights. Along with this, It is also likely that the new Hyundai Tucson will have the option to choose a Hybrid, Plug-in Hybrid, or Gasoline Powertrain with it.
So We Guess that Hyundai will not fully redesign its Tucson for 2025. But it has been confirmed Hyundai will Refresh its Tucson exterior and interior design with new features and design style. However, Officially Hyundai has not said anything.
2025 Hyundai Tucson Release Date
New Hyundai Tucson is likely to debut in the Middle of 2024 and could be available to order in the fall of 2024. However, the Company has not set its exact debut or release date yet. But we guess according to our research and expectations.
But we will update this article when Hyundai releases its exact launch date or debuts it. However, Right now, We have no right information available to confirm that it will be available soon. But we can expect it will be available till the fall of 2024.
Read Next: 2025 Toyota Stout release date, features, price.
2025 Hyundai Tucson Price
As we know, this is part of the fourth generation Tucson which has been launched recently for 2022. So there is no expectation that Hyundai will change its trim structure. We hope Hyundai will offer the same trims models as last year. But its price could be slightly higher than the previous models.
According to Our Expectations, We guess that the price of the new Hyundai Tucson 2025 could start at around $29,000 for its base model, which could go up to $40,000 for its top model. However, Right now, Officially Company hasn't confirmed anything about its pricing. But We will return soon with its exact pricing and trims.
| | |
| --- | --- |
| Trims | Estimated Price |
| SE | $29,000 |
| SEL | $30,000 |
| SEL Convenience | $32,000 |
| XRT | $34,000 |
| N-Line | $35,000 |
| Limited | $40,000 |
Hyundai Tucson 2025 Price
Engine Power And Performance
The current Generation Hyundai Tucson already has a powerful powertrain that gives impressive power and performance. As we know, Hyundai offers its Tucson with Hybrid, Plug-in Hybrid, and gasoline powertrains.
First, Let me tell you about its gasoline powertrain. Its gasoline powertrain is paired with a 2.5-liter Four-cylinder engine that produces 187 Horsepower and 178 lb-ft of torque to spin its standard front wheels and optional all-wheel drive. This powertrain is equipped with an eight-speed automatic transmission.
Second, its Hybrid powertrain is equipped with a 1.6-liter four-cylinder engine with an electric motor that produces a combined 226 Horsepower. Its Plug-in Hybrid powertrain is packed with the same hybrid powertrain with a 13.8 kWh battery pack that gives a long electric range of 33 Miles in electric mode.
This Hybrid powertrain is paired with a standard six-speed automatic transmission and all-wheel drivetrain. In terms of performance, both hybrid and gasoline powertrains give good performance. For example, it can reach a top speed of 0-60 MPH in just 8.8 seconds, which is good for such SUVs.
Read Next- 2024 Honda Ridgeline Powertrain and Performance details.
2025 Hyundai Tucson Specs
| | |
| --- | --- |
| Trim Name | Limited |
| Model Year | 2025 |
| Body Type | SUV |
| No. Of Doors | Four Doors |
| No. Of Rows | Two-Rows |
| Seating Capacity | Up To Five Passenger |
| Towing Capacity | N/A |
| Fuel Tank Capacity | 14.3 gal. |
| Fuel Economy (City/ HWY) | 25/ 32 MPG |
| Engine Name | 2.5L 4C |
| Power Output | Up To 187 HP |
| Torque Output | Up To 178 lb-ft |
| Transmission | 8-Speed Automatic |
| Drivetrain | FWD or AWD |
| Acceleration (0-60 MPH) | 8.8 Seconds |
| Top-Speed | 120 MPH |
| Reference | Official Website |
| Go To Our Home Page | EVsBuzz.com |
Interior Design And Comfort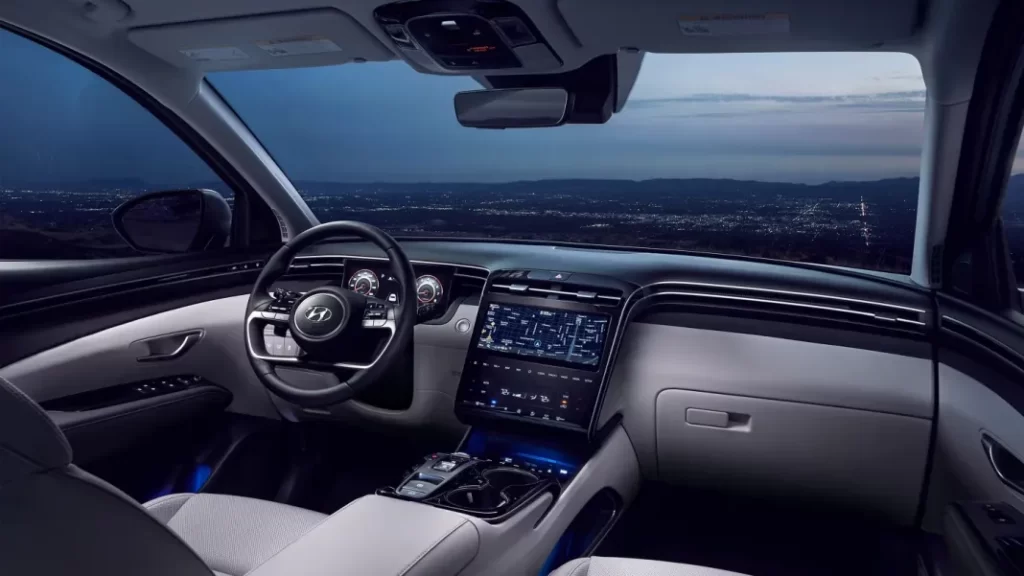 The Next Hyundai Tucson is likely to get a refresh in its exterior and interior design. And right now, we have no information about its interior design or which features and design will be changed for 2025. Nor has Hyundai released any interior images. Some Spy photos are available, but they are only exterior photos, not interior ones.
But we guess its interior will be luxurious and spacious as in previous years. To your knowledge, the Interior Design of the available Tucson is more luxurious and spacious. It also has premium Quality interior materials. It has a panoramic sunroof, Automatic climate control, Front and rear seat armrests, heated and ventilated front seats, and many more interior features.
We think that Hyundai will add some extra interior features as standard and update its infotainment system with the latest generation. Otherwise, we hope most of the interior design will remain unchanged compared to the previous model year.
As well as with the Hyundai Tucson, you will get lots of cargo space to carry your heavy and large suitcases and bags. You get enough cargo space behind its rear seats. And even if You need more, You can easily fold its rear seats, and after that, you will have enough space.
Read Next- View the 2024 Honda Odyssey Price, Interior, and Specs.
2025 Hyundai Tucson Colors
We have listed all the colors of the Hyundai Tucson for their new model, Check out the list below, we give you information about the coloring of the new model of the Hyundai Tucson.
Silky Bronze Metallic
Atlas white
Dive in Jeju
Shimmering silver pearl metallic
Dark Tela metallic
Dark Knight Pearl
Phantom black metallic
Infotainment and Connectivity Features
The Hyundai Tucson already has more interior and exterior features. And we hope that all those features that are in the previous model year will be in 2025 Tucson. Below we have given it some important interior features.
A large Touchscreen display
Apple CarPlay and Android Auto
SiriusXM Satellite Radio
Premium Bose sound system
Digital Key
Power Adjustable front seats
HD Radio Technology
Safety And Driver Assistance Features
There is no expectation that Hyundai will change anything in its safety features. We hope it will have the same safety features as last year. So here we have given all its safety features below in the list-
Forward Collision Warning with Pedestrian Detection
Blind Spot Collision Avoidance Assist
Driver Attention Warning
Lane Keeping Assist
Lane Following Assist
Rear Cross Traffic Alert
Smart Cruise Control with Stop and Go
Safe Exit Warning
Rear Child Safety Door Locks
Tire Pressure Monitoring System
Read Next- 2024 Toyota Sienna is on the way.
Conclusion
Hello Friends, Today we have learned about the next upcoming Hyundai Tucson 2025. We have learned about its redesign, Release Date, Price and trim, Powertrain details, Interior Design, Interior Features, Safety features, and other important information.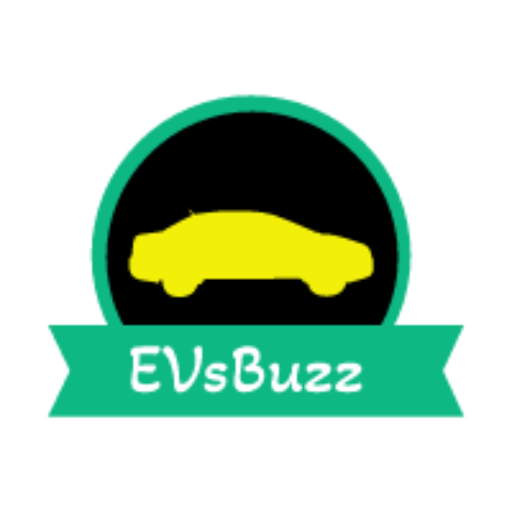 EVsBuzz.com is an Automotive news and media website that provides comprehensive information regarding the new EVs, SUVs, Sedans, Sports Cars, and other luxury Vehicles reviews, and news. EVsBuzz has more Automotive experts and experienced writers who have more than four or five years of experience in the international automotive industry.