Hello Friends, As we know, Toyota 4Runner is one of the top seller three-row SUVs of the World's larger Company, Toyota. The 2025 Toyota 4Runner is likely to get a full redesign with a completely new exterior, interior, and powertrain. Also, it is expected that Toyota will offer an electrified powertrain with it.
The Toyota 4Runner 2025 will be the first model year of the Sixth-generation of the 4Runner. It is expected that it will be built on the Company's new F1 platform. The next-generation 4Runner can now easily compete with its top rivals, Ford Bronco and Jeep Wrangler.
This new 4Runner will likely have a similar powertrain and interior design as the recently launched 2024 Toyota Tacoma. Also, it will drop its previous generation V6 Powertrain. And that will be replaced by a new Hybrid powertrain to give excellent Fuel Economy.
So Friends, If you are looking for an off-raod ready three-row SUV that will be capable of hauling your family and your suitcases, Then you should wait for the next-generation Toyota 4Runner 2025 because it will have a more powerful powertrain to haul your family and their things.
Is The 2025 Toyota 4Runner Redesign?
Yes, Toyota is going to fully Redesign its 4Runner for the 2025 Model year, which will be all new as the sixth generation of the 4Runner, and it will be built on Toyota's new Platform. So if you want to get the latest updated exterior and interior design with an all-new electrified powertrain, you must wait for 2025.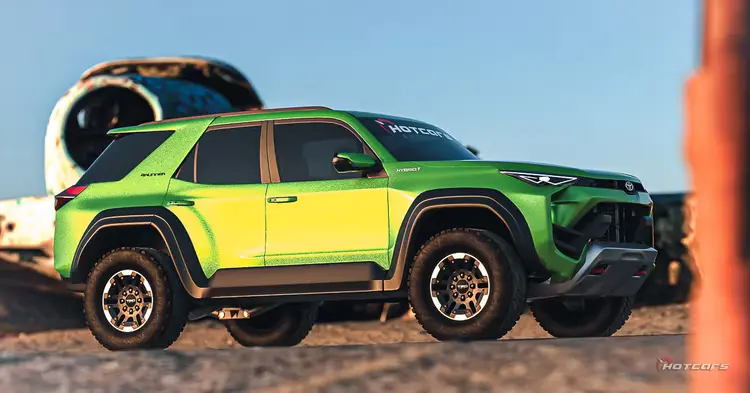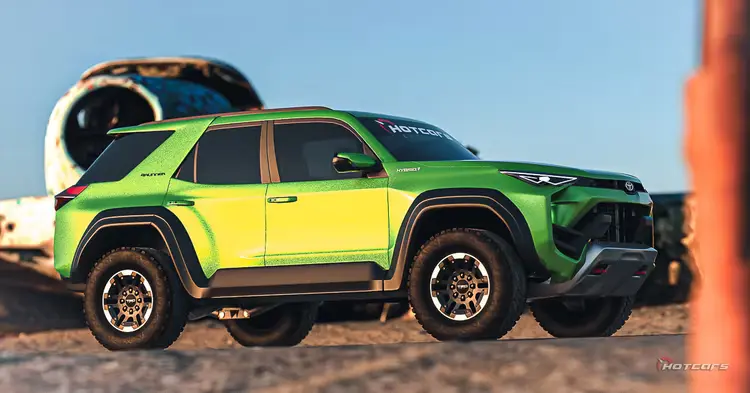 2025 Toyota 4Runner Release Date
Unfortunately, Toyota is not set its debut date for the next-generation 4Runner. But According to social media and other sources, It is being told that the next-generation 4Runner will not come before 2025. We guess it could be in the fall of 2024 and could be available to order in early 2025.
But Don't Worry. We will update this article and notify you when it is available to order or officially released by Toyota.
Read Next- When will the 2025 Hyundai Tucson be available?
2025 Toyota 4Runner Price
The Previous generation of the 4Runner was offered in eight models. Thats Price started at $40,155 for its base model, which went to $54,620 for its top models.
So we can guess that the new next sixth generation of the 4Runner could be offered with the same models- SR5, TRD Sport, SR5 Premium, TRD Off-road, TRD Off-Road Premium, Limited, and TRD Pro. And its 40th Anniversary Special Editon is not likely to continue for 2025. So We hope the new 2025 4Runner will be offered with the same seven models as the previous model, but its price could increase compared to the last year. Below we have given its estimated pricing for the 2025 4Runner-
| | |
| --- | --- |
| Models | Estimated Starting Pricing |
| SR5 | $45,000 |
| TRD Sport | $46,000 |
| SR5 Premium | $47,000 |
| TRD Off-Road | $48,000 |
| TRD Off-Road Premium | $50,000 |
| Limited | $52,000 |
| TRD Pro | $60,000 |
2025 Toyota 4Runner Interior
The Interior of the new Toyota 4Runner 2025 will be completely redesigned with a new large touchscreen display, the Latest infotainment system, and High-Quality Interior materials. And all its digital driver information displays will be standard on every 4Runner.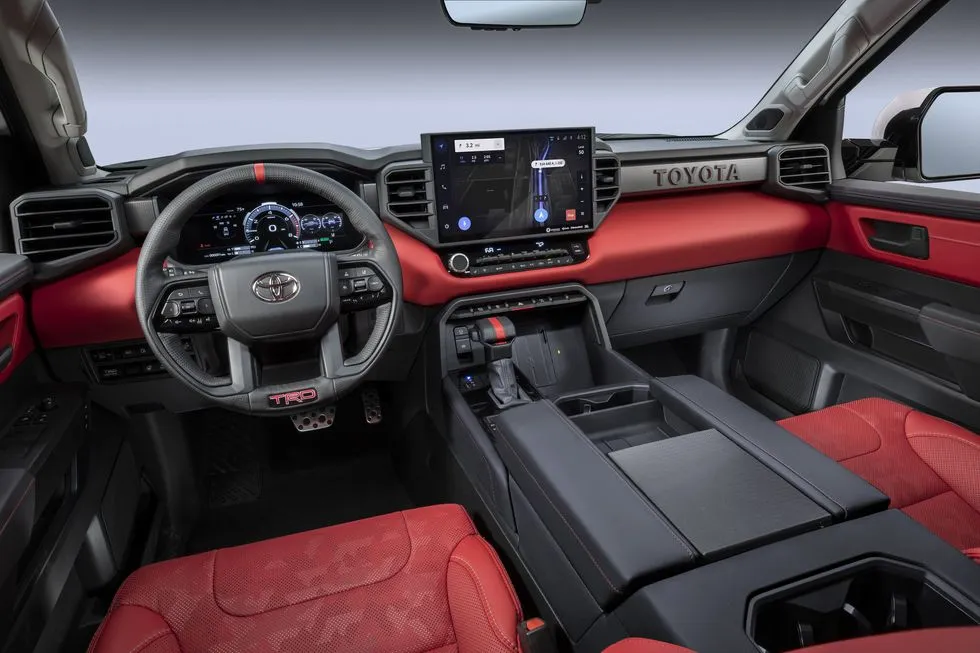 Apart from this, it will be built with high-quality interior materials to compete with its rivals and give the best comfort to its front and rear passengers. And also, now it will have more legroom and headroom space to sit easily inside it.
The Top models of the 4Runner are likely to get a larger 14.0 inches touchscreen infotainment system with more tech features as standard. And also, it could get a standard premium sound system. We hope, as the last year, this new 4Runner will also have three-rows seats to sit up to seven passengers. However, its third-row seat could have tight legroom space.
More information about its interior design and features is still to be revealed officially. The above-given information is based on expectations, and we don't confirm that. But we will return soon with its latest updated interior design.
Read next- The new 2025 Toyota Camry Redesigned interior.
2025 Toyota 4Runner Powertrain
The Next-Generation of the Toyota 4Runner 2025 is likely to get a new fuel-efficient hybrid powertrain that will be capable of giving more power and performance, its previous generation Powertrain will be drop after the 2024 Model.
Because its previous generation 4Runner, came with a 4.0-liter V6 engine with a five-speed automatic transmission that produces a power of only 270 HP and 278 lb-ft of Torque. And also, it not gives a good fuel economy rating. So we hope that the new 4Runner 2025 will have a new hybrid powertrain that will give excellent fuel economy and power.
The next-generation Toyota 4Runner will likely get a 2.4-liter iForce Max turbocharged four-cylinder Hybrid engine with an electric motor that could be capable of producing a max power of up to 326 HP and 465 lb-ft of Torque. And this new powerful powertrain could be paired with an eight-speed automatic transmission or six-speed manual transmission.
However, Righ now, Officially company has not confirmed its latest hybrid powertrain. So we will update this article when the company releases its powertrain information.
What is the 2025 Toyota 4Runner Fuel Economy?
The Fuel economy of the Next-generation Toyota 4Runner is yet to be declared officially by Toyota. So Right now, we have no information about its fuel economy. But we guess it will give the excellent fuel economy compared to the last year.
2025 Toyota 4Runner Colors
There are multiple colors provided by the Toyota 4Runner, As we see in their all previous years model, so we can expect that in the Toyota 4Runner, there are also multiple color options. We listed all colors of the Toyota 4Runner see the all points below.
Nautical Blue Metallic
Classic Silver Metallic
Magnetic Gray Metallic
Midnight Black Metallic
Barcelona Red Metallic
Lunar Rock
Ice Cap
Blizzard Pearl
Lime Rush
Solar Octane
2025 Toyota 4Runner Safety Features
It is being told that the new 4Runner will have the latest generation of safety features. That will have more standard and advanced safety features. We hope it could have a standard Road Sign Assist, Lane Tracing Assist, Proactive Driver Assist, As well as an Automatic Emergency braking system, Automatic High beam, Lane Keeping Assist, and Adaptive cruise control.
Read Next- You Need To Know about the new BMW X3.
2025 Toyota 4Runner Features
There is no information available about the next-generation 4Runner. But it is being told that it will have a 12.3 inches touchscreen display that will be offered as standard for the base models. But also a larger 14 inches touchscreen will be available, and it could come as standard with top models.
And other connectivity and technology features will have similar to the other Toyota SUVs, like an Apple CarPlay and Android Auto, Wi-Fi Hotspot, USB Ports, Wireless Charger, Premium Sound System, and other important features.
Conclusion
Hello Friends, We have learned Everything about the next-generation 4Runner. For example, We have learned about the Toyota 4Runner 2025 Redesign, Release Date, Price, Interior Design, Powertrain details, Fuel economy, Safety Features, Infotainment and connectivity Features, and other important information.
Featured Image Source- Hotcars